Stone bench tops are a great way to add a touch of elegance to your kitchen. They look great and as a result, more and more people are choosing stone when they design their kitchens. But whilst they look fantastic, they're also prone to stains, grease and general dirt. So if you're thinking of upgrading your kitchen or already have a beautiful stone worktop in place, you need to know how to clean stone bench tops effectively. 
Proactive cleaning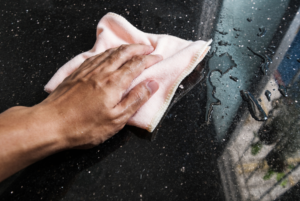 Don't wait until your worktop is riddled with stains before you whip out the stone bench top cleaner. The key to maintaining a clean and healthy worktop is regular and proactive care. This means regularly wiping the surface down with a damp cloth and warm soapy water. Avoid using your washing up dishcloth however as you could inadvertently transfers oils that stain. Once the surface is wiped down, wipe it again with a clean and dry cloth. This will help eliminate streaks.
Preventative methods
Stains will naturally occur in any kitchen, but there are a few handy little tricks you can use to protect your surfaces. For example, when working with metal containers such as baking trays, place a mat underneath to prevent rust spots. You should also place a heat mat underneath any hot items such as saucepans or bowls as these could cause your bench top to crack.
It's also important to know about some of the foods that are most likely to cause stains, such as turmeric, beetroot, berries, red wine, tomato-based sauces, curries and oils. This doesn't mean you can't cook with them (as they're rather delicious), but if you do choose to cook with them and happen to spill some on the counter, be sure to wipe it away with some cleaner immediately.

Find the right stone bench top cleaning products
When caring for any of the surfaces in your home, you need to find the right products. In this instance, you need the appropriate stone bench top cleaner. We recommend the Rodaux stone and tile cleaner as it is designed for everyday cleaning, biodegradable, phosphate free and most importantly, safe to use in food preparation areas.
Another great option is our stone cream cleanser. It is safe to use on most hard surfaces, easily removes grease, soap scum and other stains and has a safe non-acidic formula.
How to remove stains from stone bench tops
Whilst nobody tries to go around making a mess, spills and all sorts of other accidents inevitably occur in any kitchen. The first thing to remember when spills happen is to soak it up immediately with a paper towel. Then, apply your stone and tile cleaner to the area and rub the stain away using a clean, damp cloth. Avoid using bleach, nail polish removers or scourers and abrasive cleaners as they will damage the surface. Once the stain has been removed, remember to buff the surface with a clean dry cloth to avoid streaks.
Conclusion
Knowing how to clean stone bench tops is crucial to keeping your kitchen looking fabulous. And the good news is, it isn't rocket science. The key is proactive cleaning, damage prevention and stocking up on the right cleaning products. For more information on any of our cleaning products, give our expert staff a call now on 1300 195 670 or visit or drop us an e-mail at info@rodauxsurfacecare.com.au.