In this blog, we're going to show you the steps you need to take to re seal your natural stone prior to laying. Alternatively, watch our easy to follow video.
Why Pre Seal your natural stone?
Prior to laying the natural stone, pre sealing it gives that moisture protection from picture framing and grout release. Picture framing like is a water stain around the actual edge of the tile, and it looks like actual picture frame. So, that's moisture absorbed from the stone into a certain area, causing a picture frame effect.
Equipment you will need to Pre Seal
The equipment you will need to pre-seal your tiles are:
A plastic tub with a flat bottom
A clean lambswool applicator, or you can use a pump sprayer to pre-seal.
A pre-sealer, such as Rodaux Surface Care Pre-Shield.
You will also need some personal protective equipment to protect your skin, eyes, and mouth from spills and sprays:
rubber gloves
eye protection
dust mask
Keep in mind, pre-sealing takes 24 to 48 hours to cure. SO be sure you give yourself enough time before laying your tiles needs to happen.
Step 1 - Clean and dry your natural stone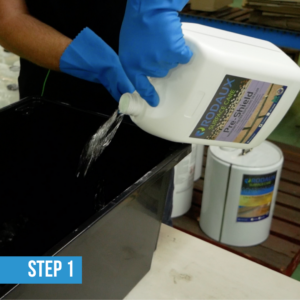 To start, make sure your natural stone is clean and dry. Follow the instructions on your pre-sealer, and pour a good amount of the sealer into your plastic tub. With Rodaux Surface Care Pre-Shield, you don't need to dilute the liquid with water.
Step 2 - apply your pre seal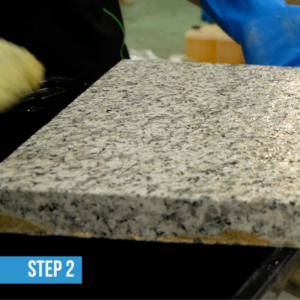 Wet your lambswool applicator in the solution, and paint the sides and front of the natural stone, making sure each corner is covered. Let the sealer set in for 10 to 15 seconds, allowing you time to remove any excess sealer. Extremely dense stone, such as granite, might need a little extra time to allow the Pre-Shield to penetrate.
Step 3 - let dry and cure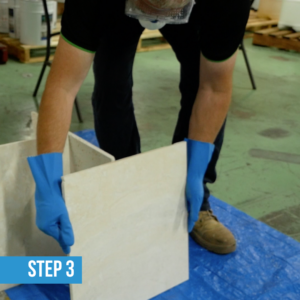 Lay the tile on a dry and clean surface with good airflow to allow the pre-sealer to dry. Once you've completed sealing, allow the pre-sealer to cure for 24 to 48 hours before laying the natural stone in place.
So, that's how you pre-seal natural stone with Rodaux Surface Care Pre-Shield. For more information, contact us on info@rodauxsurfacecare.com.au